Mombasa-Malindi-Tsavo-Voi-Taveta-Loitoktok-Taveta-Voi-Samburu-Kinango-Ukunda-Diani-Mombasa.
Tour Starts and Ends: AMT Motorcycle Adventures Office, PJ Plaza Nyali.
Tour Duration: 3 days, 2 nights.
Time Needed: 3 days (arrive on the day of the tour by 7:30am)
Riding Days: 3
Rest Days: 0
Total Distance: less than 877 miles / 1411 kilometers
Approximate Off-road Distance: 67 / 203Kilometers
Support Truck: None
Level: Intermediate
Elevation Gain / Loss: 850 meters / 2952 feet
Climatic Zones: Coastal tropical wet and dry
Minimum participants: 1 (We never cancel tours due to lack of participants)
Maximum riders: 10 riders (The number is manageable)
WARNING: This is not a normal motorcycle ride. This tour requires elements of endurance and stamina. Riders must be able to ride in adverse weather and road conditions and for long time periods of time (up to 12 hours)
Tour charges: $1000 (inclusive of accommodation, dinner, fee charged at different sites, and lunch).
What you will see
Beaches along the coastline, Villages, Vasco Da Gama pillar, Wildlife in Tsavo East and West National Park, Taita Hills, Mount Kilimanjaro (From Kenyan side when the sky is clear), Shimba hills national reserve.
Day 1
Itinerary
Vuma cliffs provide very spectacular scenes along the coastline, near the famous Takaungu village. This village is believed to be one of the most spectacular parts of the Kenyan Coast, a small traditional Swahili village virtually untouched by western influence. While standing on the cliff, you will be able to clearly see the corals, and a view of the beach lining and the ocean in general. You will experience the huge waves crashing against wild rough cliffs.
Watamu is a known fishing village, which has maintained its both local and traditionally characteristics. You will get the opportunity to experience some of the beautiful beaches. The wonderful white sandy beaches of Watamu are protected and placed under Watamu National Marine Park. They are said to be the finest in Kenya, and Africa as well. A quick stop over will ensure you get a quick glimpse, before heading straight to Malindi.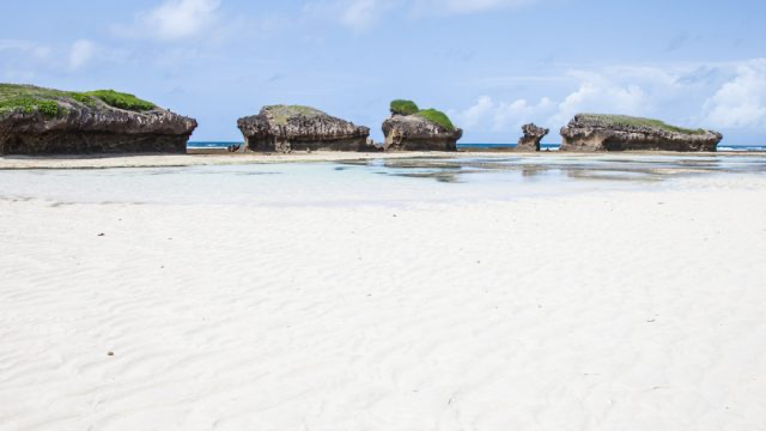 At Swahili dishes, you'll have the opportunity to bite some yummy African dishes, to enable us continue with the ride to Tsavo East on our way to Voi. Here, you'll need to fill up to your best capacity, and stock up snacks, and water to last you for more than 200Km (124 miles), before getting to Voi.
Immediately, we will leave to Tsavo via C103. Some great views of Kenya's upcountry lifestyle will catch your attention. The lined up villages along the road, with beautiful landscapes behind them will surely be memorable.
Tsavo East National Park.
Tsavo East national Park is one of the largest Kenyan National Park, and bordering its counterpart, Tsavo West national park. It is nicknamed the "theatre of the wild." The red dusted elephants are common in this park, and the likelihood of meeting one during the ride through are high. This park boasts to host a number of mammals, the Yatta plateau, and a variety of birds (More than 500 bird species), the Mudanda rock, Lugard falls, and Aruba dam. Motorcycles are not allowed through the Park, so you will only ride through designated paths, on the park's periphery. However, you will be able to see some animals, including, elephants, impalas, baboons, vultures and many more. The trails here are extreme (Intermediate skills required). You will have to ride under extreme heat, and on sandy patches, sharp stones and thickets that extend towards the trails. You may also encounter large potholes on the trails, which may be filled with sand or water, depending on the season.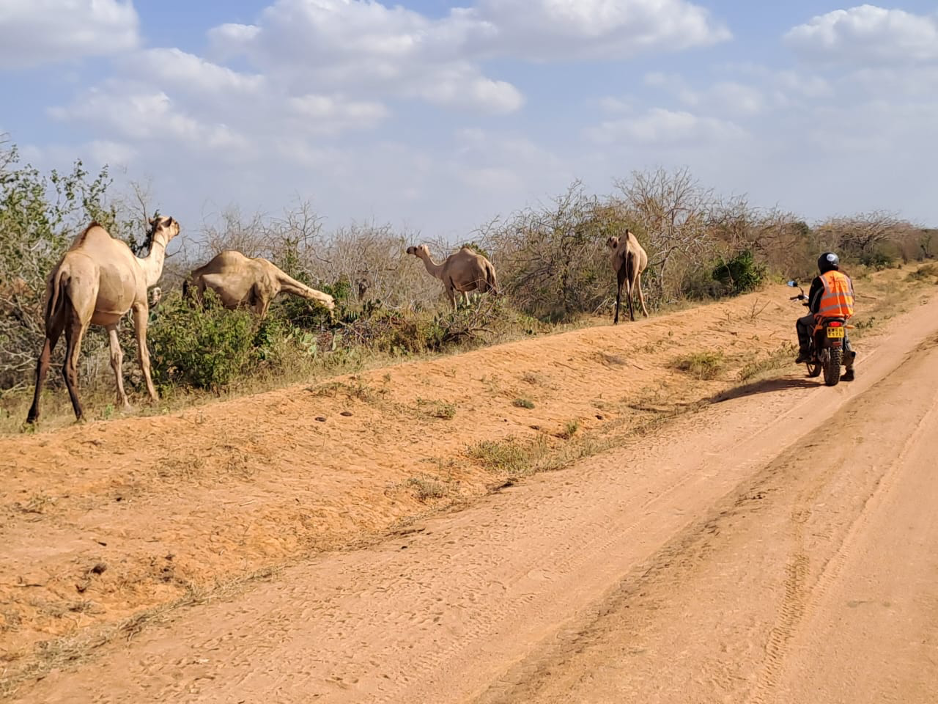 After a long ride, you will be able to spend the night at Afrika Lodges in Voi. It is one of the best place for a traveler to refresh up and rest before going on with a trip. Its proximity to the highway, the Tsavo East and West national parks makes it suitable. The accommodation here is exquisite, starting from Ksh 2500 for a standard room to Ksh 5000 for an executive. Breakfast is included.
Note: The total tour package includes a standard room. If you would like an executive room, you will incur an extra $40.
Day 2
After a buffet breakfast, you will ride through Tsavo West on your way to Taveta. The park is known as the land of "Lava, springs, Man-eaters and Magical Sunsets." This name is believed to have come from the man eating lions that killed hundreds of people during the construction of the Railway line and the highway during the colonial era. The park is also a home of over fifty million gallons of crystal clear water that comes from under parched lava rock. The park is more scenic than Tsavo East national park with rouged mountainous areas. The Mazima springs and the Shetani lava flows are unique attractions found at the park. Tsavo West national park is wetter than Tsavo East national park. Here, you will get the opportunity to spot some animals, including Zebras, Giraffes, wild beasts, antelopes and elephants.
The water pans and shallow dams filled with water are the most likely places where you will encounter some of these mammals and birds, because they come over to quench their thirst. Our agile motorcycles, built for the exact terrain will allow you to get as much closer as possible, to have a perfect view, and probably take some clear shots of the beasts in the background. However, you are not advised to get more closer to the animals on motorcycles for safety reasons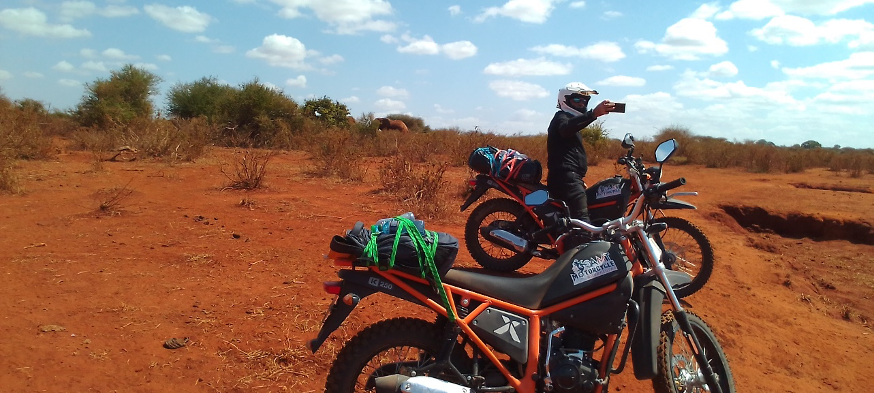 A quick stop in Taveta for refreshments will allow you to see Taita hills, which define the landscape of the region. The views of the mountain ranges are spectacular, and can be clearly seen tens of kilometers away. The hills consists of three massifs, Dawida, Sagalla that lies in the south of Voi town and Kasigau which is Near the Tanzanian border, to the South. The Taita hills are unique, because of its flora and fauna. It has more than twenty species of African violets, for instance streptocarpus teitensis. The local Taita people live on the edges of the forested areas, and mostly practice farming, due to the fertile productive soils. Approximately fifty percent of the indigenous forests were replaced with exotic tree plantation, from 1955-2004, something that could be attributed to excessive logging of trees.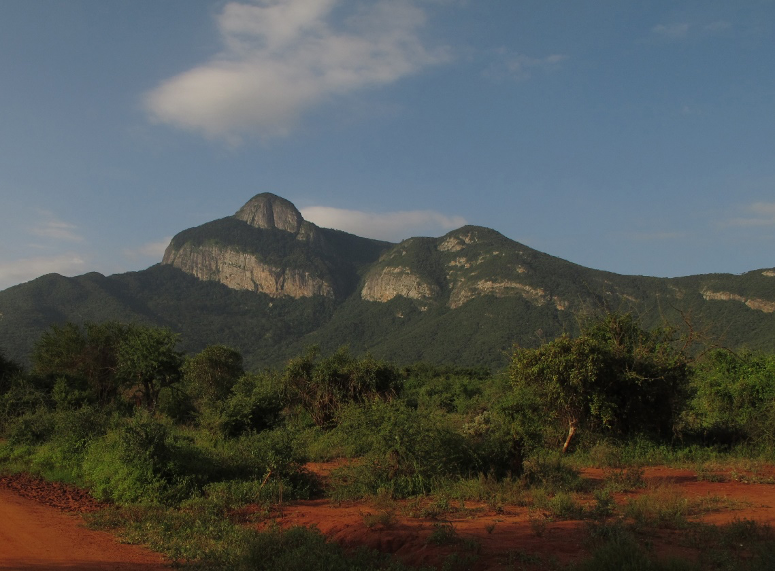 Oloitoktok (Kenya Tanzanian Boarder)
Afterwards, we will head to Oloitoktok where you may get an opportunity to see Mt Kilimanjaro while in Kenya. Oloitoktok, commonly referred to as Loitoktok is a small growing town located in the Southern part of Kenya, near the border of Tanzania. Its popularity majorly comes from the fact that one can easily spot the tallest Mountain in Africa, with a height of 5895 meters (19341 feet) above sea level. The mountain is clearly visible in the morning hours, during sun rise, and before the cloud cover formation.
After the view of Kilimanjaro and having something to grab in town (Loitoktok), we will ride back to Voi via the same route, giving you an opportunity to see more animals in Tsavo west national park, as animals would have started leaving their hiding places to enjoy the cool evening in the open. (The alternative route through Tsavo West national park is off bounds to motorcycles)
Afrika lodges will be your next stop to spend the night. A warm bath will come in handy to allow your body to relax. You'll have dinner as we reflect on the day's activities and experiences.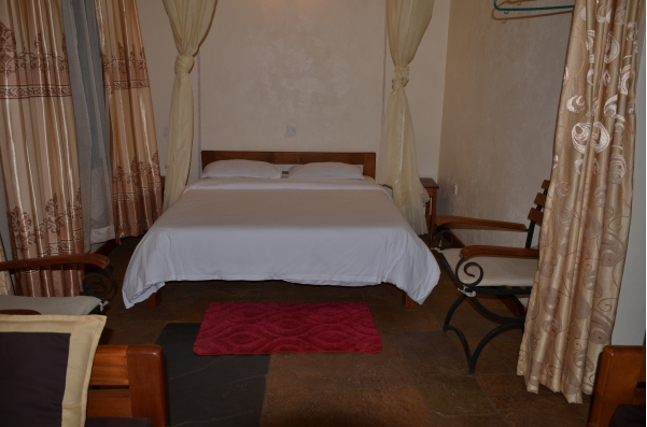 Day 3
The next day we will use the main Nairobi-Mombasa highway to Samburu, before branching off to Kinango. From Samburu, you will enjoy the winding road through villages, enjoying the scenic views, and the rural lifestyle. Kinango town is a small town in Kinango constituency in Kwale County. It is one of the main busy centers in Kwale County, acting as a very important transportation node. Most traffic, especially of tourists from Voi to Shimba hills pass through here, pushing for its growth over time. Kinango is majorly inhabited by the Duruma and Digo clans, who have lived here for more than a century. However, a considerable percentage of the Kamba people is also present as a result of internal migration.
We will then ride from Kinango town, towards Shimba hills. The unpaved road we will drive on will require you to unleash your off-road skills. You will encounter difficulties on the trails, including sharp rocks, sand patches and sharp bends, which will require concentration. Additionally, the roads may be dusty, requiring you to have your fully riding gear on, despite the temperatures. As a precaution, riders are advised not to follow one another at a close range. One should leave a minimum distance of 7-10 meters to allow them enough reaction time incase of an emergency. The recommended off-road cruising speed is 50km/h, as it will allow you enjoy the scenic views and also ensure you completely have full control of your bike.
Shimba hills is one of the largest coastal forests, after the famous Arabuko Sokoke. The forest reserve host a large number of African elephants in the country. Other animals found in the reserve are the antelopes, fruit bats and the bushy tailed mongoose. Additionally, the reserve also is a home of a variety of birds, including red-necked-Spur fowl, Croaking Cisticola and Zanzibar Red Bishop. The scenic Sheldrick Falls and the dense Mwaluganje Forest are also found here along with four campsites. We will ride along designated trails traversing Shimba hills, because, just like other parks in Kenya, motorcycles are not allowed within the main reserve. We'll ride on the periphery of the main reserve, on the curvy unpaved trails within Shimba Hills forest reserve. You are advised to stock enough water through out this stretch as it may get hot.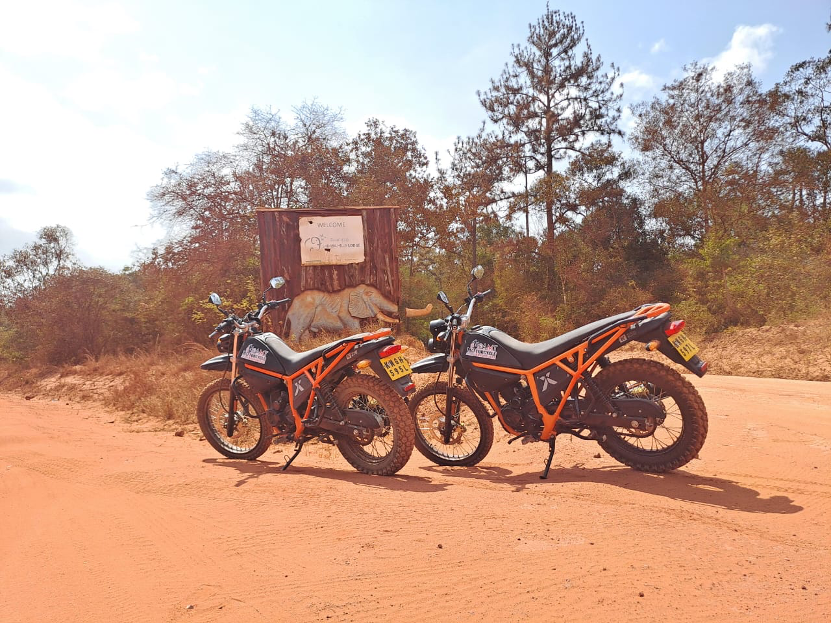 From there, we will ride all the way to Ukunda, then Diani where we will stop and grab something to eat at coast dishes hotel. As
After having lunch, you will ride back to Mombasa via the Likoni ferry crossing. From there, you will ride through Mombasa town, back to the AMT Motorcycle Adventures offices. The whole trip will enable you to discover the true Kenya, the lifestyle of its people and how they cohabit with their natural surroundings.
Tour charges
$1000 (inclusive of accommodation, dinner, fee charged at different sites, and lunch. The cost excludes donations, tips, and alcoholic drinks at different hotels and restaurants).